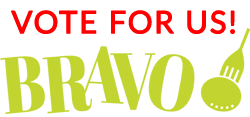 Last year, MOSHIMO won the Most Sustainable Restaurant Award in the BRAVOs. Since then, we've extended the Vegan Challenge to a whopping five events throughout the year, have introduced ever more sustainable items on our menu (such as our amazing vegan salmon made from tapioca and seaweed), and our global Fishlove campaign continues to put pressure on policymakers to end overfishing for good.
Sustainability is central to everything we do at MOSHIMO, and we're leading the charge when it comes to more sustainable dining. We truly believe that we can shape the restaurant industry for the better, and winning in 2020 will further that goal.
Let's do it again
It only takes a minute to vote, but it would make our year if you did. Here's how…
Head to The BRAVOs page on MOSHIMO
Hit 'Please Register to Vote'
Complete the signup process including email verification
On the MOSHIMO page tap the different awards you'd like to enter us for
Bathe in our eternal thanks! Seriously, it means a lot, and we really appreciate you taking the time to give us your votes.