Brighton's Most Sustainable Restaurant
Sustainability is integral to everything we do at MOSHIMO. Our priority is to serve great Japanese food at reasonable prices, but we will never compromise on our strict ethical and sustainability policy in order to do so. In fact, this principle is so important to us that our brand strap-line is 'Clear Conscience Eating'.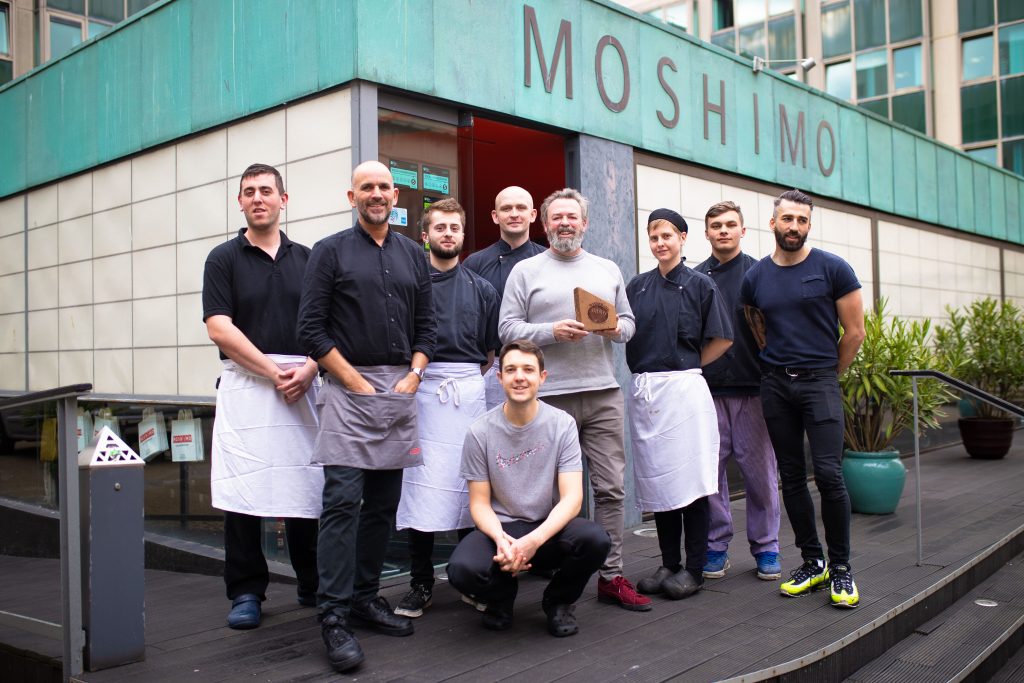 Our commitment to ethical and sustainable eating has won us numerous awards, including a PETA Proggy Award for our extensive vegan options, the prestigious Green Apple Award for the Environment, and Brighton's Most Sustainable Restaurant 2019 in the BRAVO Awards.
Here are just a few ways that we put sustainable and ethical eating on the table:
Locally and ethically sourced
We choose to work with trusted and small scale fish suppliers, creating a close relationship with local fishermen from the South coast just a few miles from outside of Brighton & Hove. This relationship is fundamental to our sustainability policy because it means we can give these local fishers a dedicated market for sustainably caught fish. It also means that our fish is as fresh as it possibly can be.
For other items on our menu, we always look for local first. We work directly with farmers in Sussex who provide our free-range meats and vegetables.
For food that we can't source within the UK, we seek to minimise the distance it takes to travel to us. For example, our sushi rice is grown in the Italian region of Piedmont, and has been approved by Japan's best chefs as meeting the same quality as the sushi rice grown in Japan itself.
Loch Duart Salmon
Our salmon is from Loch Duart, the best fish farm in the UK, hands down. Low density rearing makes this the most expensive farmed salmon available, but it's worth paying extra. You can really taste the quality. Loch Duart is the market leader when it comes to environmental stewardship and animal welfare, working directly with environmental groups and the RSPCA to achieve these aims. Loch Duart continues to research better methods of rearing, leading the way with a high quality diet for all farmed salmon.
Huge vegan menu
Vegan isn't just an afterthought at MOSHIMO. In fact, we've been providing vegan food for over a decade now, and continue to lead the way when it comes to vegan Japanese cuisine. Whether you're vegan, vegetarian, flexitarian, or just curious, our vegan menu makes it easy to try a few different plant-based dishes and lower your environmental footprint by doing so.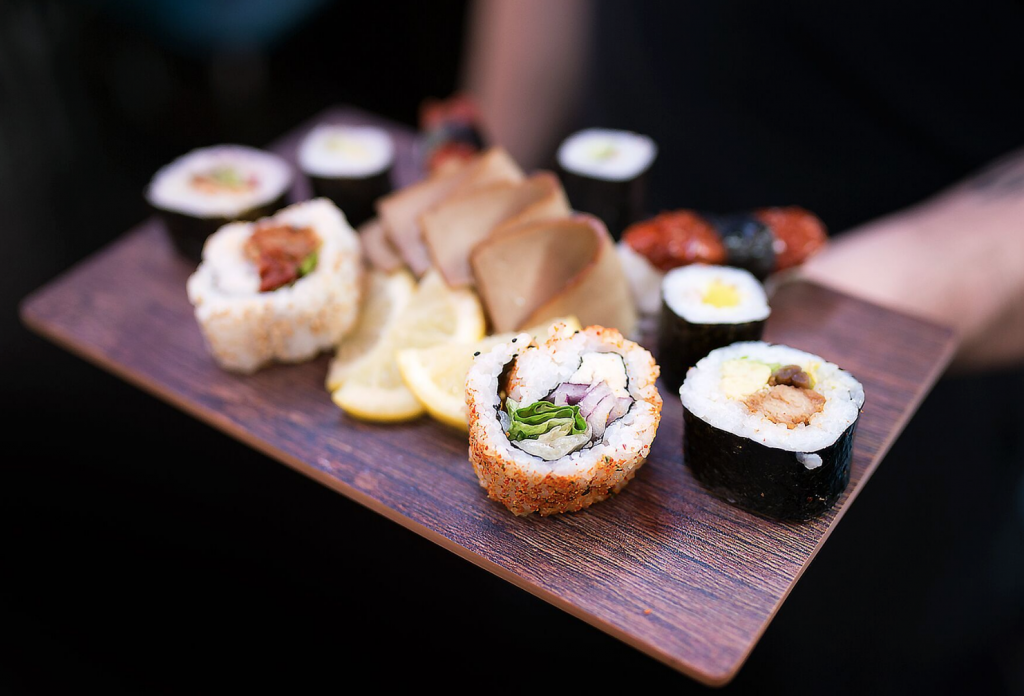 We're the ONLY non-vegan restaurant EVER to win a PETA award for our promotion of plant-based eating, and we're constantly on the look-out for innovative vegan food. To help us do this, we've been inviting the best chefs from Brighton and beyond to create superlative plant-based food and put it to our customers' vote in our famous Great Moshimo Vegan Challenge events. Held annually since 2009, the event has become so popular that we now run it quarterly. In addition, we also run 50% Vegan VVednesdays every single week, with up to 50% off our vegan dishes and some limited edition menu items available specifically on Wednesdays.
Ending overfishing
MOSHIMO makes Fishlove, the hugely influential photographic campaign that raises awareness of over-fishing around the globe. It has been instrumental in helping bring the Mediterranean bluefin tuna stocks back from the brink of extinction, making over-fishing illegal in Europe, and creating vast marine reserves on the high seas. Last year it became THE main tool for campaign groups around Europe to push for an end to over-fishing in the EU.
The campaign is a visual petition of extraordinary people who want the over-exploitation of our seas to end. Mark Rylance, Emma Thompson, Sean Penn, Sir Ben Kingsley, Dame Judi Dench, Julie Christie, Josh Brolin, Helena Bonham-Carter, Gillian Anderson, and Terry Gilliam are just some of the many, many actors, film directors and celebrated personalities who have taken part.
Overfishing is the one environmental crisis for which there is an easy solution, and yet, as of 2019, the outrageous haggling over fish stocks behind closed doors in Europe continues. We will continue with our quirky but effective campaign until they end overfishing for good.
Fishlove is financially supported by our MOSHIMO Members, for which we are extremely grateful.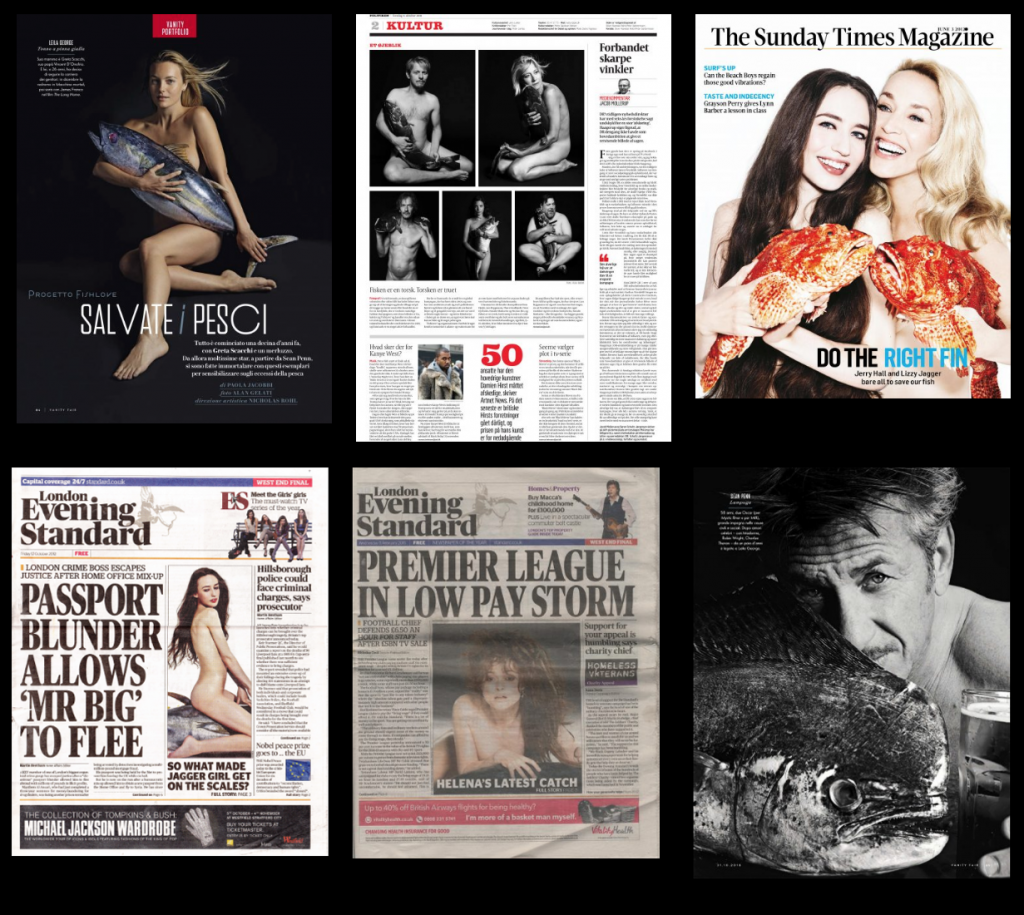 Nose-to-tail eating
Nose-to-tail eating is the simple principle of using the entirety of anything you cook, whether it's animal or plant, thereby minimising food waste. This is great news in and of itself, but it brings with it exciting, experimental and unique dishes that you won't find anywhere else.
No eel on the menu
We removed eel from the menu over 10 years ago because they are so highly endangered. We don't think any restaurant should serve such an at-risk fish. Our expert chefs have, however, put together great dishes using tilapia. Tilapia is one of the most sustainable fish you can eat, and the flavour and texture mimics eel down to a tee. Give it a go when you're in Moshimo!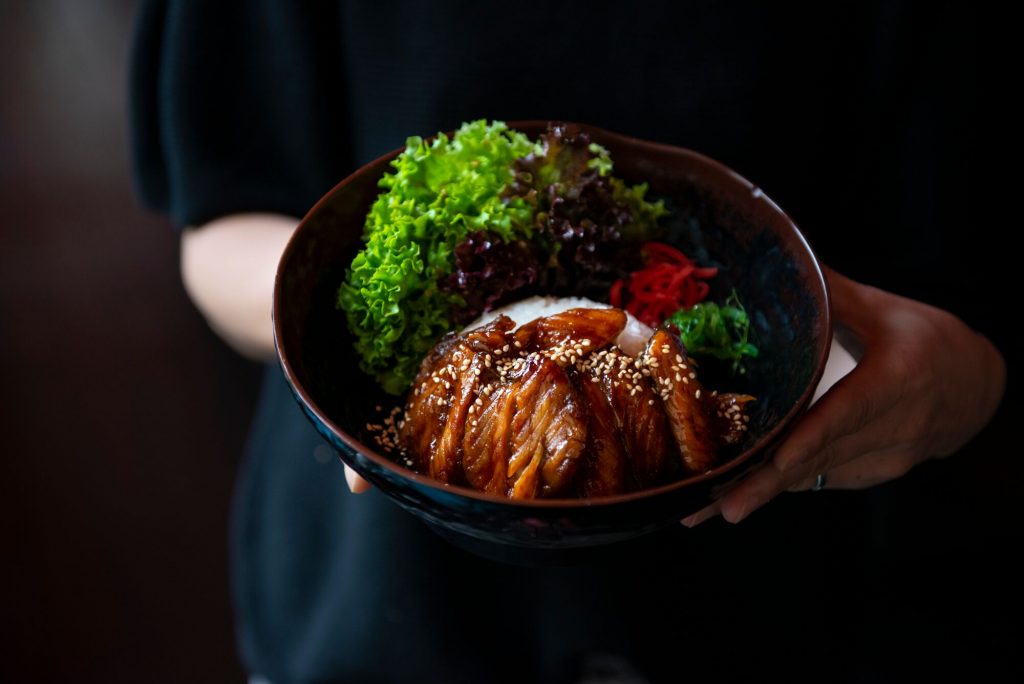 Recycling and plastic elimination
Where possible, we have eliminated any use of materials to lower our impact on the environment. We aim to source foods with limited packaging, and make many of our drinks in-house to avoid packaging and waste. Where we do use materials, we put recyclability and biodegradability as priorities, such as our cellulose straws and wooden chopsticks.
Recycling is central to our processes at MOSHIMO, and all of our staff receive training to ensure we maximise our opportunities to recycle anything used in the restaurant.
Eliminating food waste
In addition to our nose-to-tail eating approach, we also seek to eliminate food waste from our operations. We've partnered with Too Good To Go, a platform that allows people to purchase our left-over food at a discounted price. This simple partnership has allowed us to reduce our food waste to virtually zero.
We want to see food waste reduced countrywide, and have partnered with both local Council and government food waste programs to make this happen, helping other restaurants with their food waste plans.
Healthy eating made easy
We're not here to push people into eating a healthier diet, but we do aim to make healthy eating easy. We use healthy oils in our cooking, and plenty of fresh, nutritious vegetables. The fact that we use freshly caught fish from the South Coast and choose to use expensive but high quality Loch Duart Salmon means that our fish is packed with Omega-3 oils, which are essential for healthy brain development. We've been working to minimise the amount of sugar used in our drinks, as well as food such as our house teriyaki sauce.
Clear Conscience Eating
We've been working on many of the initiatives above for nearly two decades, and they've evolved and changed with time. Being at the forefront of ethical and sustainable initiatives is vital to us, and we continue to seek opportunities protect the planet and conserve our ecosystems. That's what Clear Conscience Eating is all about.